If you're looking for the best dog tents, I've got you covered (literally)!
Today, we'll check out my top five favorites for dogs of all sizes!
I'll even give you a recommendation for a large indoor dog tent!
First, though, let's talk about why you'd want a dog tent in the first place!
Here's a hint: it's useful for more than just camping!
Why Get a Dog Tent?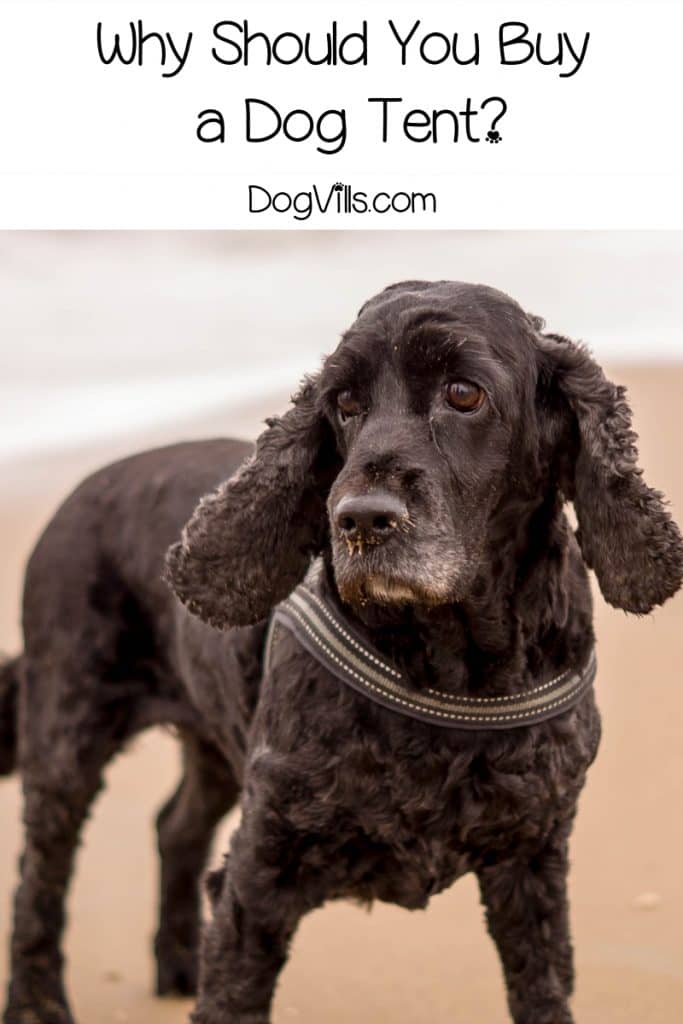 The obvious reason: so your dog can have his own cozy spot when you go camping.
However, you don't have to have to be a lover of the great outdoors to find dog tents useful!
Let's look at the top reasons for buying one!
Knowing what you need it for will play a huge role in deciding which of my top choices will work best for you.
1. Camping
Like I said, it's the obvious reason for buying a dog tent! Even if Fido sleeps in your tent, an extra one just for him can come in handy.
Ideally, you want something that's easy to set up and take down, that provides plenty of shelter from the sun, and is waterproof.
While you can just use a pet-friendly tent made for humans for this purpose, you'll find an even better solution in my top choices.
2. Sunny days on the beach
If your family spends a lot of time at dog-friendly beaches, then you'll definitely want a great sun shelter for Fido.
Remember, while you can handle sitting out in the sun all day (although I don't recommend doing it without heavy doses of sunscreen), your dog can't.
After all, he's covered from head to tail in fur! Even short-haired dogs need a break from those blazing rays, especially since they're prone to sunburn.
3. Shelter right in your backyard
You don't even have to leave your property to find a dog tent useful! They make inexpensive shelters for a wide-open backyard, too!
While I practically live in the forest surrounded by shady trees, my friend lives on a street with nary a tree in sight. Her backyard is all sun all the time.
A simple sun shelter for dogs keeps her pup cool while letting him be part of the action during backyard BBQs.
4. Keeping them contained without a crate
Some of us don't crate train (and there's nothing wrong with that!) but occasionally need a way to contain our dogs.
Others do use crates but don't always have room to take them along with them when the travel.
In either case, a play-pen style dog tent can come in super handy!
Now that you know why you'd want a dog tent, let's check out my top five favorites!
Top 5 Dog Tents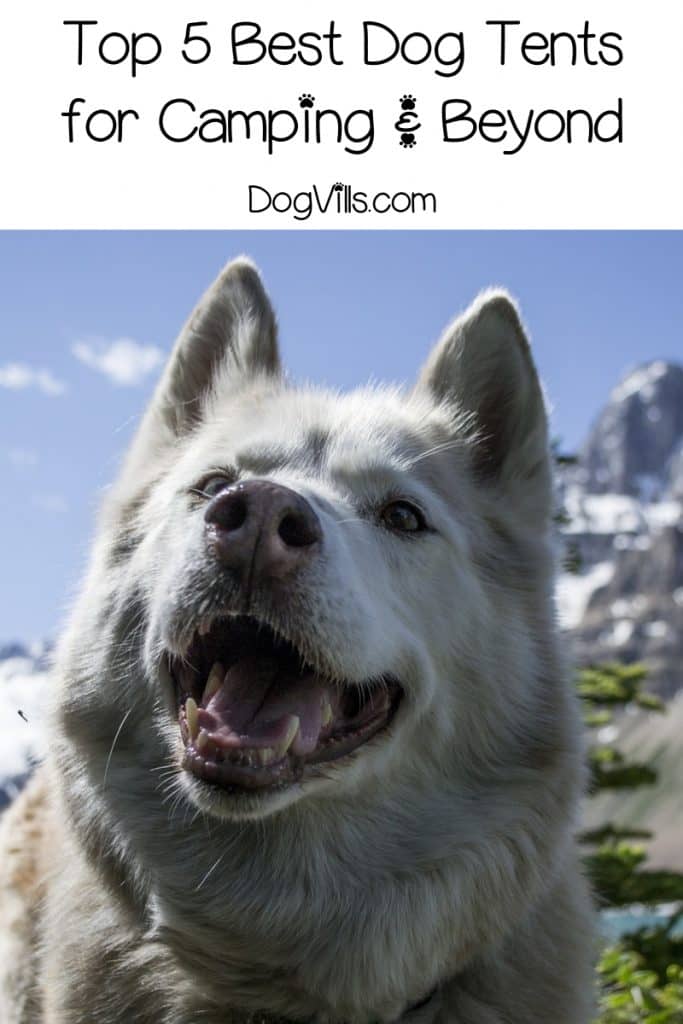 Check out the table below for a quick glance, then read on to learn more about each tent and the purpose for which it's best suited.
Preview
Name
Parkland Pet Portable Foldable Playpen Exercise Kennel Dogs Cats Indoor/Outdoor Removable Mesh Shade Cover, Small
Coleman Water Resistant Pet Playpen, Red
little dove Pet Teepee House Fold Away Pet Tent Furniture Cat Bed with Cushion 28 Inch Grey One
SUPERJARE XLarge Outdoor Dog Bed | Elevated Pet Cot with Canopy | Portable for Camping or Beach | Durable 1680D Oxford Fabric | Extra Carrying Bag – Silver Gray
Pop-up Tent an Automatic Instant Portable Cabana Beach Tent – Suitable for Upto 2 People – Doors on Both Sides – Water-Resistant & UV Protection Sun Shelter – with Carrying Bag (Sky Blue)
Best For…
Indoor and light outdoor use
Indoor and heavier outdoor use, like camping
Indoor use, some light outdoor use
All outdoor use, especially the beach
1. Parkland Pet Playpen Review
Need a large indoor dog tent that you can also use outdoors when necessary? Parkland's Playpen comes highly recommended! Let's see why!
Features and Pros
Keep dogs safe and contained indoors and outside
No assemble required, just unfold and go!
Lightweight yet strong
Zipper it up for a true dog tent, or leave it open a la playpen style.
Cons
Not ideal for large breeds. The largest size is still only 24″ high.
Rambunctious dogs can collapse or tip it, so it's not ideal for active puppies.
Some customers complain that it has a strong plastic odor.
Recommendation
This is a good choice for those with small to medium dogs who are past their wild puppy years.
While the description claims that it's ideal for camping, based on customer feedback I'd be more comfortable recommending it for light outdoor use.
For example, in your own backyard or at a picnic in a field. It doesn't seem sturdy enough for rugged terrain.
2. Coleman Dog Tent Review
The Coleman Water-Resistant Pet Playpen is another great choice for both indoor and outdoor use with small dogs.
Features and Pros
The waterproof design makes it a great choice for the beach.
Pop and go style makes it easy to set up and take down.
The top zippers off to make it more like a playpen,
Cons
It's only big enough for small breed dogs (like chihuahuas or Yorkies)
Again, active puppies can tip or collapse it.
The opening is very small, so it's a challenge to put food and water bowls into it.
Recommendation
While I actually prefer the Parkland overall as a playpen/tent combo, the Coleman is the better option if you'll be hanging out at the beach a lot.
Of course, that's assuming you have a small breed dog who's relatively calm!
Honestly, you're not going to find a pop-up dog playpen that isn't prone to tipping or collapsing, due to the very nature of pop-up tents!

Coleman Water Resistant Pet Playpen, Red
Dimensions: 29″ x 29″ x17″
Flezxible design allows playpen to fold up for travel and storage
Water resistant base
Easy to use pop up playpen
Keeps pet safe and secure indoors and outdoors
3. Little Dove Dog Teepee Review
Little Dove makes a ton of absolutely adorable dog teepee style tents, but this one is my favorite. It also has the highest overall ratings, so there's that, too!
Features and Pros
Made of 100% durable cotton canvas and strong pine poles.
The mat is also made of cotton canvas and can be machine-washed.
Easy to assemble in just minutes, and it folds like an umbrella when it's time to store it away.
Cons
Not ideal for outdoor use beyond a sunny day on your back deck.
Only large enough for toy breeds and very small breeds (even the largest size only holds up to 15lbs)
May not hold up to a rambunctious puppy (according to some users, it collapses)
Recommendation
Although the Little Dove Dog Teepee makes a better indoor bed than outdoor pet tent, you can use it on your back deck on a nice day.
Unfortunately, it's only useful for those with very small breeds. However, Little Dove makes a children's tent that can also work for medium-sized dogs.

little dove Pet Teepee House Fold Away Pet Tent Furniture Cat Bed with Cushion 28 Inch Grey One
Teepee material:100% Durable Cotton Canvas; Pine Poles; Strong long lasting construction, Mat is also made of Cotton Canvas, Machine washable.
Item Size:28 Inches tall, 24 Inch diameter, small size ideal for small pet under 12kg/26lb.
Accessories: Cotton Canvas tent + Pine Wooden poles + assembly instructions + Pom Pom Mat,(no yarn pompom balls) Easy assemble and put down,easy to clean and store.
Upgraded Design, Comes with Reinforcement Part?So Teepee is More Solid.Pets LOVE this Pet Bed House. It's a unique native American design that will suit your home decor and will fit effortlessly into your living space. BOTH you and your pet will LOVE it.
Fantastic value pricing and with a solid Quality Guarantee, that makes it FREE to exchange or return.
4. Superare Dog Sun Shelter Review
Finally, something for the big guys! If you need a dog sun shelter that pulls double duty as a bed, you'll love the Superjare!
Features and Pros
Includes an elevated dog bed and a detachable sun shelter.
The XL size is big enough for dogs up to 120lbs.
Made of breathable yet sturdy mesh fabric and reinforced with a center pole for added stability.
Surprisingly lightweight, so it's easy to pack into your car for a day at the beach.
Cons
Not a full tent, so no protection against wind and heavy rain.
Only holds dogs up to 120lbs, so you can't use it for giant breeds.
Some customers had a very challenging time assembling it.
The bed isn't chew-proof.
Recommendation
Unless you have a Great Dane or a puppy who chews everything in sight, you really can't go wrong with this sun shelter for dogs.
It's great for the beach, your backyard, and even at the campsite.
Just keep in mind that it won't provide protection against heavy rain. A light drizzle, sure, but nothing beyond that.

SUPERJARE XLarge Outdoor Dog Bed | Elevated Pet Cot with Canopy | Portable for Camping or Beach | Durable 1680D Oxford Fabric | Extra Carrying Bag – Silver Gray
A LUXURIOUS ACCESSORY FOR FURRY KINGS & QUEENS! What kitten or doggy doesn't just love to relax and enjoy the outside activities? That's why we designed and crafted this gorgeous, elevated, outdoor pet bed with ideal 48″L x 36″W x 43.2″ H dimensions; and it comes with a canopy for full shade and protection
STURDY & DURABLE DESIGN! Made of sturdy, durable 1680D Oxford fabric and steel frame, which mean that, this exquisite pet bed can hold up to 120 lbs, and endure the playful scratching and playing of your beloved furry companions
HAVE A FUN AND COZY SUMMER! Made of breathable fabric, keeping your pet away from the sultry! Elevated design brings your pet a refreshing summer! it comes with a canopy for full shade and protection! We have designed an ultra soft, matching brown pet mat that fits perfectly on the bed to offer your four-legged friend a truly luscious experience! Link: https://dwz.cn/9FaRhQqZ
TAKE IT WITH YOU WHEREVER YOU & YOUR PET GO! Whether it's for a weekend at beach, or for a camping trips, our lightweight, easily portable bed will make your cat or dog extremely happy wherever you go. Plus, it comes with its own handy little carry bag for maximum convenience
INSTALLING IT IS A PIECE OF CAKE! You will need no tools, no screws, and no handyman in order to install your buddy's new incredible canopy bed; the only thing you're gonna need is a few minutes of your time and voila! It's up and ready for your little fella to enjoy
5. Abco Tech Pop Up Tent Review
For those in need of a great dog backpacking tent, the Abco Tech pop-up is a great solution!
Features and Pros
Pops up in a flash with no tools required.
It's large enough for two adults, so it's definitely roomy enough for your big dog.
The combo of an inner zippered screen plus outer zippered nylon layer let you switch it from a light, breezy shelter to a more protective tent.
Mesh windows help circulate air and keep your dog from overheating.
Comes with a carry bag plus a smaller bag for all of the accessories.
Cons
It's not chew-proof and the material can easily puncture if your dog has sharp nails.
The material isn't the sturdiest, so while it'll hold up to a few camping trips, it's not ideal for everyday use.
While it's easy to assemble, it's a bit of a challenge to dissemble and put back in the carrying bag.
Recommendation
While it's not technically made for dogs, it's still a very dog-friendly tent providing you keep Fido's nails trimmed.
I'd recommend it more for occasional campers than those who hit the trails every weekend, though.

Pop-up Tent an Automatic Instant Portable Cabana Beach Tent – Suitable for Upto 2 People – Doors on Both Sides – Water-Resistant & UV Protection Sun Shelter – with Carrying Bag (Sky Blue)
EFFORTLESS CAMPING – Pops open into a read-to-use form (auto-setup) in a blink & proves easy to fold into a compact form – Abco Pop up tent is ideal for casual camping and accommodates 1-2 persons. Like a beautiful spot enroute? Setup your tent instantly!
DOUBLE DOORS – With double doors on both left and right side, it's easy to step out from either side. Moreover, a combination of inner zippered screen plus outer zippered nylon layer give an ability to easily switch between high breathability and complete privacy.
HIGH BREATHABILITY – Two mesh windows on the front and back add further to the air circulation while the solid nylon flaps over the windows allow for privacy. Not only breathability, you can just open everything and enjoy the surroundings too.
CARRY BAG & ACCESSORIES – Comes with a carry bag that's ideal for storage and carrying it along, and in addition, a small bag for accessories to keep them organized – occupies little space in your car trunk or even when stored at home.
GUARANTEE – With our 100% RISK-FREE SATISFACTION GUARANTEE you have got nothing to lose. However, we are quite sure that you will be super impressed with this smart tent that doesn't require complex set up, gets ready to use in a blink, and remains easy to carry along.
Final Recommendation
So which of these is the best of the best dog tents? Honestly, it depends on why you need it!
I love the Parkland playpen style tent for small breeds, because you can use it indoors and outside (on a nice day).
However, if you plan to go camping, go with the pop-up tent or sun shelter.
Do you have any thoughts on the best dog tents? Share below!
The post Top 5 Best Dog Tents for Camping & Beyond appeared first on DogVills.